Englebert emigrates to the United States with his father Anthony Stahlschmidt, mother Sophia Kuhle and  two brothers. He is one year old when they emigrate in 1834. In adulthood, Englebert buys farm ground in the fertile area between where the Mississippi and Misouri rivers meet called Missouri Point at the time.  Englebert's first wife is Teresia Westoff, born in 1833 in Allagen and married in 1854 in St. Charles. They have two children named Anthony (dies at birth) and Joseph. Teresia dies in 1856, one month after the birth of the second child, and Englebert marries Margaretha (Mary) Schulte, daughter of the emigrants Johann Franz Marcus Schulte and Anna Maria Gertrud Kegel of Anröchte, in 1857. Englebert and Mary have five children. Their names are Frank, Mary, Augustina, Joseph, and Anna. Engelbert apparently is a very popular man in the area. He dies in 1887 (age 54) and is buried in the St. Francis cemetery in Portage Des Sioux, Missouri. His headstone is inscribed Inglebert Stahlschmidt –  birth January 6th, 1836. This is wrong as his birth record in Germany is recorded as 7 July 1833 (see his birth record, portrait and obituary below).
Engelbert is Paul's great grandfather!
When the American Civil War started in 1861, Engelbert is 28 years old and registered in the document below that is followed by Engelbert's Civil War discharge and Oath of Loyalty document that he signed during the reconstruction following the civil war.The discharge states he was a corporal in the Union Army and served 145 days.
The following documents concern a land purchase for 85 acres made by Engelbert in an auction on the county court house steps from the estate of Claiborne B. Barksdale on December 21st 1857 for $850 ($10 per acre). He paid 1/3 cash with the balance due in 12 months. When clicking here on Land Deed you will find the transcription made by Paul Stahlschmidt.
The Google Earth image of 709 Saale Road, West Alton 63386 is where Engelbert had his farm. On the map you can see Portage Des Sioux where Engelbert is buried.
The larger river is the Mississippi the smaller is the Missouri river. The two rivers meet several miles down stream. The Mississppi river continues south to St Louis and eventually empties into the Gulf of Mexico at New Orleans where the Olbers landed in 1834. The area between the two rivers is what was referred to as Missouri Point in Englebert's obituary.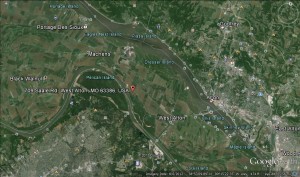 Engelbert dies on March 9, 1887 at the age of 53 when his son Frank  is 27 who buys many of the items in the sale of Engelbert's Personal Property and continues to farm in West Alton.The documents below show the items that were sold.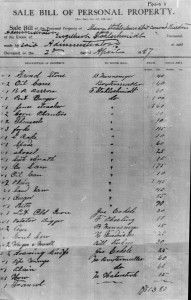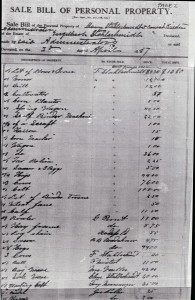 When clicking here on Personal Property you will find a transcription of the property. Engelbert's wife Mary continues to live in West Alton for a couple of years. When her daughter Mary dies in 1889, she takes her youngest children Joseph and Augustina to St. Peters to live on a farm that is owned by her parents Franz and Gertrude Schulte.
Lorayne Mitchell's great-grandmother is Engelbert's daughter Augustina Stahlschmidt, born in 1873 in St. Paul, Missouri (see chapter Augustina).
Abigail and Gabrielle Stahlschmidt, Engelbert's great great great grandchildren  are very talented musicians. Gabrielle is a singer and Abigail a violonist. See example of Abigail's musical competence under this link:
https://m.youtube.com/watch?v=Zf_hZSPSl70. There are more YouTube Videos of both of them.